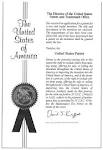 Terry Anderson, president of TRA-MAGE in American Fork Utah recently received his second patent for roofing products created with safety in mind, the 'Snow Bracket" and most recently, the "Ridge Riser".
The Ridge Riser enables air to flow through the eave line, move upward and out the vent at the roof ridge. This flow of air cools the attic lowering the cost of air conditioning. It also prevents ice dams by preventing hot and cold spots on your roof.
Passed Wind Tests in Florida
"One of my reasons for coming up with this Ridge Riser® design was because the accepted way to attach roof tile to a ridge is dangerous. A roofer toe-nails a 2 x 6 or 2 x 8 to the peak of the roof, wraps some black roof paper around it, then nails the tile to that. In a wind storm that wood and tile easily blows off. If you're in the vicinity when this happens, you'd better watch out." Mr. Anderson said.
Snow Bracket
He received the patent for the Snow Bracket in 2006, designed to keep snow and ice on the roof and not falling off and hurting someone underneath.
Both systems can be used together in a snowy climate to keep your home safer. To learn more about the products you can visit their website at www.tra-mage.com