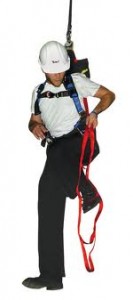 With OSHA's (Occupational Safety and Health Administration) nationwide campaign to eliminate injuries and deaths due to falls from roofs,ladders and scaffolds; two roofers who weren't using safety harnesses are lucky to be alive this week.
25 year old Chris Quinlan was electrocuted and kicked off a roof in Rochester Hills Michigan.
Quinlan was kneeling down using a nail gun to replace shingles during a roof repair when his nail gun kicked back and made contact with power lines. As 220 volts were shooting through his body, he was unable to move and get away from the wires; a coworker saw the accident and tried to kick Quinlan free.
Co-Worker Used Both Feet and kicked him Off the Roof
Quinlan later said "He literally had to kick me with both feet, that's when he knocked me off the wires but also knocked me off the roof, but it saved my life."
Quinlan was taken to McLaren Hospital in Pontiac where he was treated for minor injuries and released. He has holes and little black circles where he was burned but no damage to his heart or broken bones.
Fell Into Acid
The other accident was in Clifton New Jersey, when 44 year old Martin Davis was inspecting a section of roof over a vat of acid, the roof gave way and he fell 20 feet into the vat. Coworkers came down the ladder to help Davis and found him sitting in 4 feet of diluted acid. The 5 coworkers pulled him out and Davis was taken by a medical helicopter to St. Barnabas Medical Center in Livingston.
Mr. Davis is in critical condition with a broken rib, punctured lung and burns to his legs and sides.
OSHA, reports that in 2010, 264 people died as a result of falling while working from heights. OSHA's 3 step plan includes;
• PLAN ahead to get the job done safely
• PROVIDE the right equipment
• TRAIN everyone to use the equipment safely
If you would like more information or would like to report unsafe construction practices you can contact OSHA at www.osha.gov or 1-800-321-OSHA (6742).