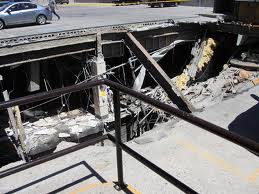 The roof at the Algo Center mall in Elliot Lake collapsed on Saturday. The 30 year old mall showed visible signs of leaking years before the roof fell in. In 2009, new owner Bob Nazarian said the leaks had stopped after a $1 million renovation including roof repair.
One person is believed to have died in the collapse. Emergency responders heard tapping from under the rubble when they called out for victims, but the area was too unstable for rescuers to go in. Crews have been working around the clock to stabilize the areas so it is safe to go in and search for victims. 22 people received minor injuries and 9 people are still unaccounted for.
Several Rescue Teams Searching for Victims
Rescuers include the Toronto fire department, police, EMT, search and rescue dogs and Toronto's Heavy Urban Search and Rescue Team.
The section that fell in was used as a rooftop parking lot. A mall employee said the two story mall was undergoing renovation, but none were major structural repairs. The 200,000 square foot mall had 30 stores and services.
In March of this year, the mall management pleaded guilty to violating the fire code safety regulations. The owner of the mall is reluctant to make comments about the cave in saying "going to be in the city hall to represent ourselves." The owner's son Levon Nazarian said "To those who have been injured, to those families of missing individuals, we offer our deepest sympathies."