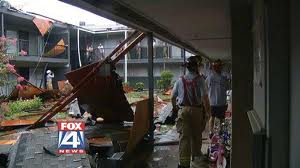 The Wayside Plaza Apartments in Fort Worth Texas was ripped apart during Wednesday's severe storm. The roof over a large portion of the complex was completely torn off the building just before 5 p.m. Residents said the lights flickered and it sounded like a freight train when the storm hit their apartment complex.
Rescue crews arrived at the 700 block of 9th Avenue apartments expecting to rescue tenants trapped inside, but fortunately everyone was able to get out and no one was hurt. The courtyard was littered with smashed wood, fallen air condition units and roof shingles. Crews covered the large hole where the roof was with a giant tarp and worked to remove the thousands of pounds of debris left by the storm.
Tenants Relocated
American Red Cross provided support to the families who lost their homes. Eight units were deemed unsafe and condemned by the Fort Worth City code inspectors early Thursday morning. Four families had to be relocated to a hotel and 4 of the units were already vacant. Remaining tenants were given 30 days notice to find another place to live due to the serious roof damage.
Investigators are evaluating the building to see if it will be safe for tenants. A representative for the Wayside Plaza Apartments said if the insurance company deems it beyond repair, they will not put on a new roof and the building will be demolished