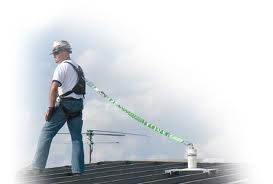 From a study published in the Journal of Safety Research, "Fatal Falls from Roofs among U.S. Construction Workers" is the study from CPWR, Center for Construction Research and Training. The study found that falls from roofs account for 1/3 of fall related construction fatalities from 1992-2009.
20,498 total fatalities occurred in the construction industry during the study years. 6,591 were fall injuries and 2,163 fatalities resulting from the falls.
The study also found that workers employed by small businesses and residential construction workers faced higher risks of falling from a roof and dying. The study also found almost half of all roof fatalities occurred in the southern states, and Hispanic workers accounted for 35% of fatal roof falls.
Report Suggests Roofers Wear Safety Gear
The authors of the study emphasized the need for OSHA's fall protection to be implemented due to 76% of the fatalities in the roofing industry was caused by falls.
OSHA, Occupational Safety and Health Administration has been cracking down on employers who do not provide proper safety equipment and training for their employees. Some roof contractors have seen stiff fines in the last couple of years resulting from fall protection violations.
The United States Department of Labor has useful information regarding OSHA regulations and how to comply. If you are working for a company that does not provide fall protection equipment or if you see roofers performing work in unsafe conditions without harnesses and scaffolding you can call OSHA at 1-800-321-6742 to report the issue.