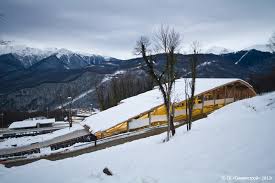 While clearing snow from the roof of the Sanki Sliding Center, where the Olympic bobsled event will be held, 6 men slid to the ground. Falling approximately 30 feet, one man appeared to suffer a leg injury and was taken out on a stretcher; the other men received minor injuries. According to the Sochi organizers, all of the men were taken to the hospital and treated.
Witnesses said the men appeared to have been harnessed to the building, but still fell to the ground with the snow. Associated Press staff members quickly grabbed shovels and began to dig where the men had been buried by the snow that fell from the roof.
An AP Staffer had phone briefly taken away
Security officers ordered Associated Press staff to stop taking pictures of the men with their cell phones.
The bobsled and luge events will be held next month at the Sanki Sliding Center in Rzhanaya Polyana, 37 miles northeast of Sochi. The opening ceremony for the 22nd Winter Olympics will be February 7th.
The reports don't indicate how the men were actually harnessed to the building, although it doesn't appear to have been a very effective safety measure. I could find plenty of references to Russia's anti-gay laws, the reason many are boycotting this year's winter Olympics, but I could not find any roofer safety laws like the United States and OSHA.