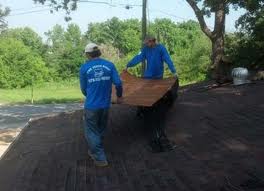 Over Memorial Day in Forsyth County Ga., Tenth Roof was busy installing a new roof at the youth center The Remnant. The roofing company donated $7,500 worth of labor and materials for the nonprofit youth center.
Repair and restoration to the old Gainesville general store included tearing off the old roof, installing new sheathing and putting up new shingles provided by Owens Corning.
Home Depot donated almost $6,000 and 2 days of labor for sheetrock, flooring, landscaping and paint to the nonprofit center. Several other businesses and volunteers also donated time and money.
Christian Youth Center
Officially opening this month, Christian Author Jackie Gaskins operates The Remnant as a Community/youth center located on Keith Bridge Rd. in Gainesville. On Friday and Saturday, focus will be on the youth. With Christian bands, a safe place to congregate services (Saturday) and outreach opportunities regularly.
The Tenth Roof gives one out of every 10 roofs they sell to a needy family or organization. Co-owner Jeff McPhail said their company is committed to putting families before profits.
Tenth Roof is a roofing, siding and gutter company in Cummings Georgia and services the metro Atlanta area. They look like a relatively new roofing company; I couldn't find anything for them on the Better Business Bureau website.