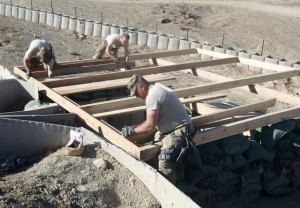 The Forward Operating Base at Athgar in the Zabul Province Afghanistan, gets a new roof built by Virginia Army National Guard 116th Infantry Brigade Combat Team. The dining area of the bunker, previously exposed to the harsh weather conditions, was covered up on November 6th.
The two Virginia guardsmen that started the project are stationed at Athgar as communication equipment operators alongside Romanian and Afghan troops.
Bunker Built Into the Side of a Hill
Part of the base is built into the side of a hill and is so remote that building supplies had to be flown in by helicopter as sling loads.
Double stacked sandbag walls and plywood gussets for stability; the bunker roof now has 2×6 rafters and 1 inch plywood. The dining area is now comfortably protected from the elements.
Americans and Romanians Forming Friendships
Romanians joined in by day 3 and enthusiastically helped with the construction, making connections with the American's while building up the roof.
Continuing on with improvements, troops are waiting for insulation to be airlifted in so they can make the remote base a little more comfortable.