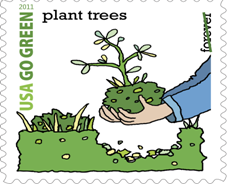 In Syracuse New York, The U.S. Postal Service installed its second green roof. The 11,300 square foot roof will be atop the Colvin-Elmwood Post Office. Through a sustainability partnership with Onondaga County, NY, the Postal Service will not be paying for the new roof.
Chief Sustainability Officer Thomas G. Day said "we're pleased to be collaborating with the good people of Onondaga County on our second green roof, which will help the Postal Service conserve water and energy in the Syracuse metropolitan area."
The USPS first green roof was on top of the Morgan mail processing facility in New York City in 2009. The 2.2 million square foot building host nearly 2.5 acres of native plants and trees.
50 Year Roof
The roof is expected to last up to 50 years, twice as long as the existing roof. The roof was found to be structurally sound and able to support the additional weight needed for the vegetation, soil, new membranes, layers of drainage sheet, mat, separation fabric and a wind blanket.
The green roof is expected to reduce energy usage by 30 percent by 2015 and lower greenhouse gas emissions 20 percent by 2020. The new roof will also reduce the amount of contaminants in storm water runoff and over burdening the Syracuse's municipal water system.
The USPS can also help customer calculate and reduce their own carbon footprints. Visit usps.com/green to learn more about their sustainability initiatives and the 'go green forever' stamps.