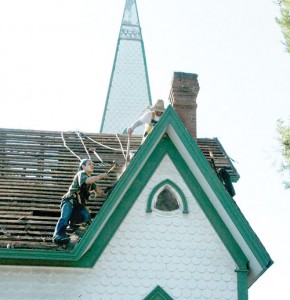 In Poway California, the members of the Community Church of Poway are getting ready to celebrate the 125th year of their Queen Ann Victorian Chapel. The original roof was built out of redwood from Northern California.
Through donations and fund raising, the church at the corner of Community Road and Hilleary Place, has enough money to completely re-roof the chapel and any sheathing issues that they might find under the scalloped shingles.
Removing Old Lead Based Paint First
Pastor Glen D Larson Jr. would like to see the roof have all new wood and exterior paint to last at least 25 years. The first step in repairing the roof is to remove the 100 year old lead based paint, next the roofing contractor will begin replacing the wood roof Monday October 24th with plans to be completed in a week.
The church is still needs approximately $50,000 to complete the last three phases. The church is acknowledging all donations received as donations to a charitable organization.
• Phase 2, a complete exterior repainting in a lead safe paint
• Phase 3, remodeling the entry to the chapel for accessibility and
• Phase 4, minor interior touch ups and replace the badly worn carpets.
If you would like to donate money to the Community Church of Poway to restore the 125 year old chapel, please make the check payable to Community Church of Poway, 13501 Community Road, Poway, CA 92064, include "Chapel Preservation" in the memo line.