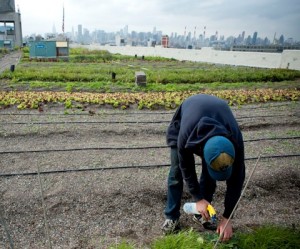 With the green roofing initiative continuing to grow, many locals have begun taking advantage of urban rooftop gardens. A large rooftop in Queens, New York has taken their green roof to new heights creating one of the largest "farms" within the city limits.
Growing New Relationships
The rooftop garden covers approximately a 40,000 square foot rooftop in one of the most densely populated cities in North America. 140 rows of crops cover a six story building in Queens. The main crops include leafy greens, tomatoes and exotic items like Japanese turnips. Not only does this rooftop garden boast beautiful views of the Manhattan skyline, but it features a high-tech irrigation system and is home to five hens.
Known as the Brooklyn Grange, this commercial rooftop farm is changing the way locals interact with one another. The founders started the garden as part of a vision for helping impact the local community. Head farmer and co-founder Ben Flanner says, "It just makes sense to utilize the open spaces we have in the city to benefit the community.
By selling the produce at the local farmers market, the idea is to give residents a better idea of where the food comes from and who is growing it. Flanner says, "We are amid 8 million people, but the farm allows them to know us and us to know them." The vision has grown beyond expectation as most of the work done within the farm is now conducted by local volunteers looking to be part of something special.