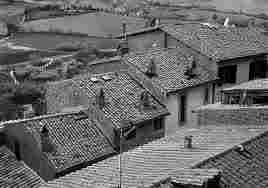 A new software has been developed that will take some of the anxiety out of having your roof repaired or replaced. EagleView Technologies has created a program that gathers areal roof photos and creates a 3-dimensional image of the roof complete with pitch, colors and shapes. Giving the homeowner confidence knowing the true measurements of their roof when it comes time to get bids or insurance estimates.
The tool uses information from public and private records to generate the image of the roof. The software makes a model of the roof creating measurements, and then a technician reviews the model and the images and emails the customer with a report. The report usually takes one day to complete and costs anywhere from $20 to the more complex roofs at $80 or more.
Difficult to get Accurate Measurements with a Tape Measure
It is not as easy as it looks to get up on a ladder with a tape measure and get precise roof measurements. Both roofers and Insurers are using this service to create accurate measurements that all can agree on. Insurance companies tend to minimize roof dimensions and roofers have a tendency to over bid on the measurements.
EagleView, a 3 year old Seattle company, states that almost 20,000 contracting businesses and 25 large U.S. insurance carriers have used their service. The sales team expects to double that amount and add more roofers and insurers.