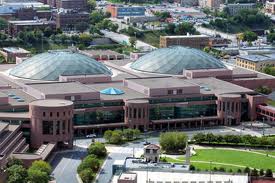 3 of the 4 copper clad roofs will be replaced with PVC (polyvinyl chloride). The domes have been leaking water and asphalt into the convention centers exhibit halls for years. 3 of the domes were built between 1989 and 1991, the 4th dome, not being replaced was built in 2001.
Even though the copper roof sheds water, they are not water proof and the asphalt underneath is worn out and damaged. The city spends several hundred thousand dollars a year to make temporary roof repairs.
PVC to Last "Many Many Years"
To replace the roof with copper cost approximately $15 million, $8 million for another type metal and $5 million for the PVC roof. Convention center executive director Jeff Johnson said "I think this is the most efficient, best use of this money to get a roof that is watertight and lasts for many, many years."
The dome project will be set up for bids later this week. If work starts in June, they hope to be complete by the end of the construction season this year.