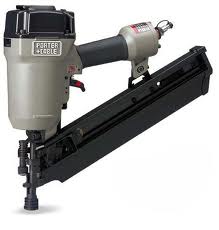 In Camden New Jersey, a self-employed builder accidentally shot himself in the heart with a nail gun. On March 31st, Dennis Hennis was working on his neighbor's old roof when the nail gun he was using jammed. While trying to clear it, it accidentally went off and discharged a 3 ½ inch nail into his chest.
The nail entered the right side of the 52 year olds heart; he went into cardiac arrest and was airlifted to Cooper Hospital in Camden. Mr. Hennis was released from the hospital Friday after a team of trauma and cardiac surgeons were able to repair the damage.
Dennis said "I thought I was done, I really did" he also said he will be more careful with his nail gun in the future.
3 ½ inch Nails from Framing Nailer
The nail gun he was using is usually used for framing and not necessarily for roofing. A framing nailer can be used on the joists or rafters while working on a roof.
We are seeing these unusual accidents occurring more frequently, earlier in March a man in Florida nailed his finger to his roof and took rescue crews 90 minutes to get him down. And these are just the more sensational accidents that make the news, many more go unreported.
Unless you are a professional roofer yourself, it may be prudent to hire a reputable roofing company to do the repairs; it will certainly be safer for you.