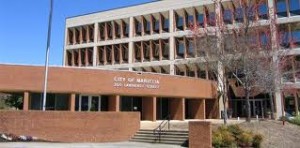 Marietta Georgia City Hall is making plans to fix its leaky roof. City Safety service director Jonathan Hupp said "There are actually three roofs on this building front to back."
The front section of the building is covered by a slate roof and flat roofs are on the back sections. The membrane materials are deteriorating and rain water is leaking through.
The second floor main hallway has puddles of water and trash cans and buckets to catch the rainwater as it drains through. Along with the damage to the walls and roof, ceiling tiles are falling exposing insulation and wiring.
New Roof First Order of Business
Davis Pickering Architects from Parkersburg have begun preliminary designs on renovating the city hall. City Engineer Joe Tucker said a new roof will have to be in place before any upgrades can be done inside the aging building. The membrane and spray foam on the flat roof is approximately 15 years old and will need to be replaced. The roof does not have the proper pitch to allow rainwater to drain off and will need to be replaced.
Tucker said "This will not be a simple re-roofing job, because we also need to seal the roof to prevent water from leaking inside the walls of the building. And core samples of the roof will have to be taken to determine which areas are made of concrete, metal decking or other materials."
City engineers will be doing as much of the roofing work as possible and will be working with the roofing supplier, Fiber Tite Roofing of Wooster to determine the scope of the project.
Tucker is eager to get the roof repair started, the deterioration caused by the leaking water is holding up other renovation projects to the city hall.