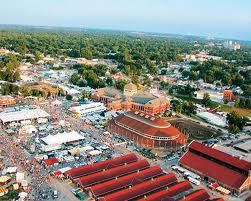 The state of Illinois will pay $630,000 to repair the torn canvas roof at the Illinois State Fair. Back in January high winds tore the canvas roof over the multipurpose arena. The canvas roof has 4 sections, damage was done only to 1 section on the west side of the facility.
The company that originally installed the roof, Span Systems Inc., of New Hampshire was awarded the roof repair contract. The states public works construction program is funding the project.
Replacing The Canvas
Dave Blanchette, spokesman for the capital development board said "they are going to replace the missing and damaged section of the canopy and repair and replace as needed the portions of the structure that hold up the canopy."
The project is scheduled to be completed by May. Fairgrounds operate year round and the next major event will be the Illinois State Fair in August.
The first Illinois State Fair was held in the capital of Springfield in 1853, admission was 25 cents. The fair moved to Chicago in 1855 and back to Springfield to stay in 1894.