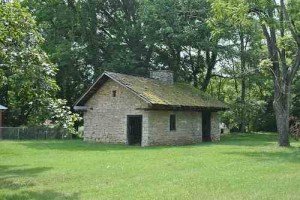 The Tennessee building believed to have been built in the late 1700's or early 1800's is having the roof replaced by historic restoration carpenters Jonathan Ferrell and Brian Prather.
The small rock fortress is believed to have been owned by early settler Valentine Sevier. He built it for his family to take refuge in during Indian attacks.
Red Cedar for the Roof
Farrell and Prather became interested in the project since they make oak shingles and the roof was more than likely built with native wood. Native to the area was cedar, oak, cypress and chestnut. Due to the cost of supplies, Ferrell and Prather chose to use hand split red cedar from Canada.
Ferrell said "it's the prime wood species for shingles. It's got a better insulation rate factor than most modern materials. They're hand-split and they're completely waterproof. The splitting of the shingles make them waterproof. It raises the grain of the wood and makes it to where water won't soak in."
30 Year Roof
The carpenters are hoping to get the new roof finished soon, they are waiting for a 22 foot long timber beam that Farrell and Prather will hand hew themselves. The red cedar shingles are expected to last up to 30 years if kept well maintained.