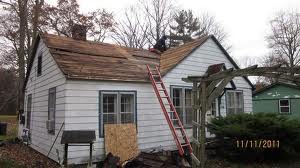 A U.S. Army Veteran received a new roof from the pilot program "Repair Corps" by the Blue Water Habitat for Humanity. Fort Gratiot Michigan, resident 78 year old Nathanial Wright, and his wife Earlene were given the new roof on Veterans Day.
Water began to leak into the house since the Wrights have only been able to repair the roof with tar. Because the house is over 52 years old, it was in desperate need of a new roof.
More Repairs to Be Completed by End of the Month
The Habitat for Humanity volunteers will return to the home this week to re-insulate the attic and replace the water damaged drywall and ceiling. The extent of the roof damage required the volunteers to call in the roofing professionals at Pine River Construction.
Home Depot Foundation donated a $10,000 grant to Blue Water Habit for Humanity as part of their Repair Corps Initiative.
Building Houses and Supporting Families
Blue Water Habitat for Humanity resource development director Aubree Mayhew said "Sometimes there's not a need for a new home, but for major repairs, we've been trying to go from building houses to supporting families."
If you would like more information on the Blue Water Habitat for Humanity you can contact their Family Services Department at services@bwhabitat.org or by calling 810 985-9080 ext. 204.