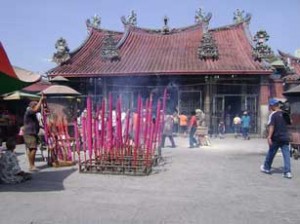 Statues of mythical and religious figures surround one of the oldest Chinese temples in Penang. The Kuan Yin temple is one of the top four places of worship for locals and tourists. Many come to the temple to receive a blessing after marriage and pray for children. As one of the most notable places in Penang, the 211 year old temple's surrounding statues have been tarnished by falling roof tiles.
Historic Roof Easily Damaged
After experiencing a significant rainstorm that battered the rooftop of the temple building, many roof tiles fell from the building. Four of the surrounding statues representing Kuan Yin (Goddess of Mercy) were damaged by the falling roof materials. The temple was closed for a short time over potential safety concerns.
A local architect inspected the roof after the damage and determined that the temple's old roof had been infested by woodworms. The main supporting beam has become brittle and soft after years of the infestation. It is feared that further damage could result if another downpour strikes the city. Roof repair is planned for the temple, despite the need for closing the famous temple for nearly 3 months while the work is completed.