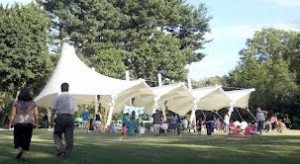 Part of the Staten Island Children's Museum exhibit in New York is a 2,200 square foot fabric canopy. Birdair Inc. based in Amherst, installed the museum's Meadow Structure. The new roof features Birdair's steel cable system and PTFE, a Teflon coated woven fiberglass membrane combined with thin film photovoltaic panels.
The PTFE is capable of withstanding temperatures from minus 100f to 500f. The roof material is also waterproof and non-combustible. The exhibit shows how the fabric can collect solar energy to power low voltage lighting. The individual panels can be removed without disturbing the roof fabric.
Freestanding Structure
Birdair's Brian Dentinger said "The photovoltaic panels provide a seamless look for the Meadow Structure". The exhibit is a freestanding tensile structure featuring a translucent photvaltaic fabric roof that enables visitors to learn about renewable energy.
The Meadow Structure will be used all year as weather protected outdoor gathering and program use space. The project team included Marpillero Pollak Architects of New York City, Weidlinger Engineers of New York City and Mongiove Associates as the General Contractor.