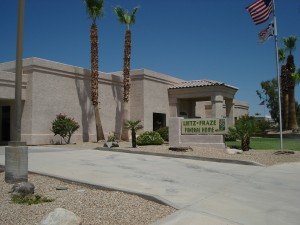 In Lake Havasu City Arizona, the roof of Lietz-Fraze Funeral Home and Crematory caught fire on Friday night. Three engines responded to the fire, upon arrival the fire commander called for a second alarm to get additional firefighters to the scene.
Firefighters were able to get the fire under control within 45 minutes of arriving, but were there for another three hours helping clean up the debris. Two firefighters received minor injuries, one was treated at the scene from being overcome by the heat and the other sustained a knee injury and was taken to a local hospital.
Fire Broke Out During a Communal Pet Cremation
Although the exact cause is still to be determined, the fire was contained in the crematory area where an employee was cremating stray dead animals. A security guard outside the funeral home noticed the smoke and called the fire department.
Funeral Director Kristen Lietz-Westwood said she spent most of Saturday calling loved ones and letting them know the fire was contained to the crematorium and no human or animal bodies were damaged in the fire.
Estimated damages by the fire department are around $75,000 for the roof repair and water damage. Actual cost won't be determined until the insurance company has a chance to come out and look at the damage.