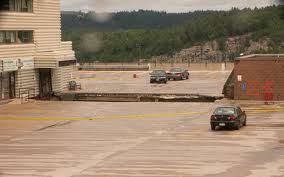 According to Professor Samir Chidiac a structure analysis and concrete specialist at McMaster University in Hamilton, a well maintained membrane could have prevented the lethal roof collapse at the Algo Centre Mall.
He said a concrete building is susceptible to saltwater leaching through the material that would damage and rust metal supports.
Glen Day, a former roof contractor hired to fix the leaking roof back in 2008, said he had been fired from the job before a membrane could be installed.
Day said "we were going to put a membrane down and some asphalt on top but there was some issues with that because of the structure itself, they were concerned of the poor condition of the beams."
The next roofing company replaced caulking around the joints and used a roof sealant system instead.
Chidiac said sealants are initially effective but can wear away especially when cars are constantly driving on it. He also said caulking the joints does not provide the same protection as a roof membrane would.
Mall Owner had Previous Legal Issues With the Roof
In 2008 Bob Nazarian, the owner of the mall lost a lawsuit from a previous tenant of Algo Mall. Anne Marie Letarte was awarded $11,000 due to her business being shut down twice due to leaks in the ceiling causing the roof to collapse over her restaurant in the food court.
That same year court documents show that Nazarian hired contractors Peak Building Restoration to do $823,657 worth of repair and waterproofing work on the building and only a portion of that fee was paid. Peak took out a lien on the business but it expired in 2010.
Building inspection reports are not being made public in the city of Elliot Lake regarding the inspections of the Algo Centre Mall. Back in 1980 when the mall was first built, membranes were not required.