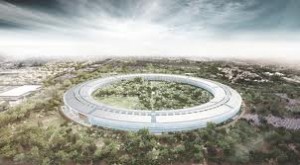 As if Apple Inc. wasn't one of the leading sources of innovation in the world, they now plan to add a new roof project to their list of accomplishments. The Apple headquarters campus is planning to install a roof that is almost entirely made up of solar panels.
Attempting to become the largest solar roofing project in the U.S., the plans should bring Apple in the lead over a 4.26 megawatt (MW) system in Edison, New Jersey and the new 5.38 MW system of a ToysRUs in Sunny, New Jersey.
Breaking Records, Saving Energy
Apple's solar roof plans are set to cover nearly two-thirds of the 750,000 square feet of surface area covering the roof. With an average of 10 watts per solar panel square foot, the main campus building alone should be able to generate 5MW of power. Apple plans to install solar panels on a few other buildings on campus including the parking building, which carries plans for 320,000 square feet worth of photovoltaic panels.
Currently, the Google building operates a 1.6MW solar panel system, capable of powering the buildings on its campus. The new 6MW solar plan for the Apple buildings could generate enough power to operate all of Apple's daily operations, as well as store extra energy for back up purposes. The idea is to power itself through daily operations and only depend on the use of the normal electricity grid in back up emergencies.