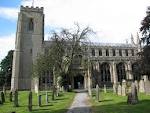 Awarded 20,000 GBP (approximately $30,000 USD) The Church of Saint Peter in Walpole, Norfolk, also known as Queen of the Marshland, has received royal support for roof repairs to the chancel. Prince Charles regularly visits the church and contributes to its repair, continuing the royal tradition of personal support for the church.
The chancel, the space around the altar of the church for the clergy to officiate, has a very high, large roof. Due to the size of the project, it will be an expensive process when hiring a roofing contractor to do the job.
Church Destroyed in a Flood
St. Peters tower was built in 1300, in the 1330's a flood destroyed the church, all but its tower. Before it could be rebuilt, the Black Death took away half of the local population. In the early 15th century the church was rebuilt on a grand scale.
The chief executive of the National Churches Trust, Claire Walker said "I am delighted the trust has been able to support these vital repairs to one of England's most important parish churches."
The total cost of the chancel roof is expected to be GBP 200,000. English Heritage will be giving a grant for half of the project and the rest will be raised by additional grants and donations.