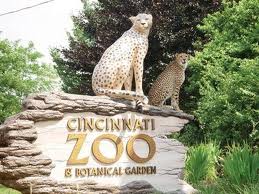 Nearly 4 acres of solar panels have been installed on parking canopies at the Cincinnati Zoo and Botanical Gardens. The zoo project is the nation's largest solar display available to the public.
The solar project took approximately 3 months to complete. Workers installed the last solar display on Friday.
All the engineers, contractors and subcontractors for the zoo project are based in Cincinnati. The major components of the solar canopy were made locally or in other U.S. locations to help promote economic growth.
800 of the 1,000 parking spaces at the main entrance is expected to provide 20% of the zoo's yearly power needs, and some days sending power back to the utility company.
Melink Corp., the developer and owner of the million dollar project was supported by PNC Bank, Uptown Consortium, National Development Council and First Energy Solutions. As part of the agreement, Melink Corp. will fund 10 scholarships for area residents to be trained as solar equipment installers. The zoo did not have to pay for any of the project.
The project is expected to save hundreds of thousands of dollars in electrical costs. The zoo also has the option to buy the system after seven years.
The zoo has used other energy saving devices since 2006 when the Cincinnati Zoo pledged to construct only sustainable buildings that meet LEED certification requirements. Leadership in Energy and Environmental Design is a third-party certification program and the nationally accepted benchmark for the design, construction and operation of high-performance green buildings.
Existing buildings have been updated with energy efficient products; by switching to energy-efficient LED bulbs for the annual festival of lights has cut energy bill in half.
Zoo visitors can visit the educational kiosk near the zoo's go-green garden to learn about the technology and benefits of solar energy.