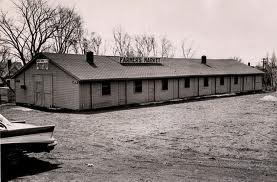 In Duluth Minnesota volunteers put on a new roof on the Farmers Market on 14th Avenue. Through the years they raised $6,000, enough for the roofing materials but not enough for the contractors. So the Farmers Market Board Member's decided to roof it themselves with some help from the community.
101 year Old Farmers Market
The market has been open since 1911. It has been at the present location since 1953 and before that it was on 6th Ave. Bob Olen, a Farmers Market Board Member said "it's old enough so that it's worn out and leaking."
Armed with shovels and pitch forks, vendors, members of the community and UMD students volunteered on Saturday and Sunday to remove the 30 old roof and put up the new. About 20 people came out and gave their support for the market.
On the Farmers Market facebook page they posted on Saturday that the entire roof was in the dumpster and were asking for experienced nailer and setter volunteers to come out and help finish the roof on Sunday.