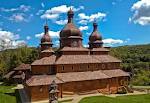 Sacred Heart Ukrainian Catholic Church, in Johnson City NY, has a new polymer shake tile roof from DaVinci Roofscapes. The much needed roof repair of the deteriorated wooden cedar shake on the siding and rooftop were replaced with a Valore polymer shake roof. Also tiled were the church's three 80-foot tall domes on top of the roof. The church was founded in 1944 and the original wood shakes were designed for the church in 1977.
Polymer Tiles Sturdy and Cost Effective
In keeping with the traditional Ukrainian design of building, 90 squares of Volare were installed in a Tuscano color blend of light to dark autumn colors. The new roof has a 50 year warranty on the polymer shakes. Easy to maintain, the polymer tiles resists mold, insects, fungus, algae cracking, fading and curling. The tiles are 100% recyclable and virtually maintenance free. DaVinci Roofscapes have been making synthetic slate and shake roofing in the United States since 1999.
Reverend Theadore B. Czabala Jr. said "The new polymer shakes look almost identical to the older wooden ones, but these will last so much longer. The wood exterior of the church has been cleaned and stained, so now the structure looks perfect. We're both amazed and pleased that these man-made roofing tiles could have such a positive and beautiful impact on our facility."