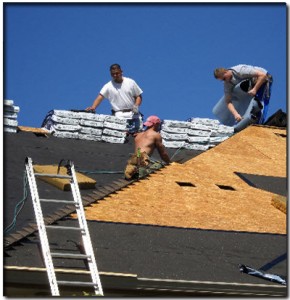 Generally, homeowners pay little attention to the state or integrity of their roof unless a problem becomes visible. In addition to the lack of knowledge regarding roof damage, most homeowners have a limited understanding of when a home needs a new roof versus a simple roof repair.
Repair Vs. New Roof
Re-roofing a home is the process of installing an entirely new roof. More specifically, the removal of an old roof and installation of a new roof. While most assume this distinction is obvious, there are many instances in which a roof contractor may simply install new roof materials over the old materials. This can be dangerous and may even be a violation of city code. In general, roofs should not have  more than two or three layers of roof materials at any given time.
Having too many layers of roof materials is one of the top reasons for re-roofing a home. Other reasons for re-roofing a home include a severely damaged roof, sagging or warping of underlying roof base materials, water damaged base materials that may or may not include problems with mold or mildew and roofs that are older than 30 years without a product warranty.