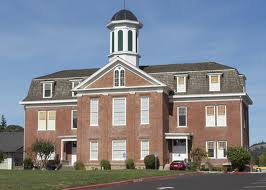 The Benton County Historical Museum in Philomath Oregon will be getting treated cedar shingles reminiscent of the original shake roof from 1867. The flashing and metal coverings will also be repaired or replaced.
The building was originally constructed for Philomath College which operated until 1929. The building was then used as a church until 1968. In the 1970's the building was saved from demolition and in the 1980's the structure was turned into the Benton County Historical Museum. The museum currently preserves historical artifacts, photographs and manuscripts and is used as a research library and art gallery.
The Benton County Historical Society is working to preserve the building to it's original state. Executive director Irene Zenev says the new shingles are more historically accurate. Since the building is on the National Register of Historic Places they feel obligated to help return the building to its original look.
The work started on July 25th by Sprick Roofing of Corvallis and ReConstruction, Inc. of Albany, Oregon. Funding for the project is coming from a grant from the Kinsman Foundation in Portland, Oregon and the estate of Don and Krystal Kabler.