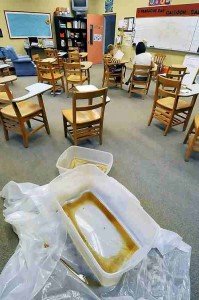 After 60 years with a flat rubber roof, the Mount Aetna Adventist Elementary School got a new metal pitched roof. The pre-kindergarten through 12th grade school in Smithsburg Maryland had been using buckets to catch the rain water dripping through the ceiling.
The roof had been leaking into the classrooms, ruining carpets and ceiling tiles. Attempts to repair the roof were unsuccessful.
Roof Cost $21,000
The new metal roof cost $210,000; the school is still working on raising the last $50,000. Seventh Day Adventist church members, parents, teachers, staff and students have all worked hard to raise funds for the project, including pitching in their own money.
A Smithsburg based contractor did the work to replace the new roof. The portico still needs to be finished and a few additional details need to be completed.
Celebration
They got a surprise storm for the ribbon cutting ceremony and celebration of their new roof. The new roof will keep the school dry for the 79 students and 20 homeschool students, teachers and staff.
"When we had the snow and the horrible weather yesterday, not a drop of water came out in the school," Principal Kandace Zollman was pleased to announce.