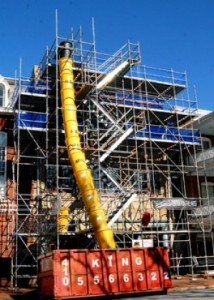 A theater and arts center in Chestertown, Maryland has had its fair share of roof problems over the years. The old roof has been through numerous "band-aid" fixes for various problems, but is finally set to receive a new roof.
Finding the Funding, Finding History
The crumbling roof at the Prince Theater/Garfield Center for the Arts building was just one of several issues that was inherited when the building by the new owner a few years ago. After searching for nearly a year for the funds needed for the major roof repairs, the building's executive director gave up looking. However, last December the building suffered a major flood during a rainstorm causing the entire building to fill with several inches of water. With a renewed sense of urgency, building executives began working to find a solution.
Having found the funds to replace the roof, the building executives were shocked when a roof contractor found some interesting artifacts in the building's original design and engineering plans. Several hatches in the roof's original construction are thought to have once been used as a makeshift ventilation system in the days before air conditioning. The 85 year old roof has brought much attention to the building's historical significance, highlighting the important role this building has played in the local community for many years.