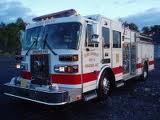 A fire department in Kittanning Pennsylvania, Kittanning Hose Company #4 on Orr Avenue will soon be getting their leaking roof replaced. The building will get new shingles, bricking, a power vent and fascia. The new roof will be paid for using 2008 Community Development Block Grant Funding.
According to Hose Company #4 2nd Assistant Chief Mike Swartz a 10 foot by 10 foot square needs to be replaced. "The rafters and all that stuff are in good shape and the rest of the roofing is good."
Bid includes alternate options
Jennifer Bellas, Armstrong County Community Development Director said "should be fine money wise, we know that section is going to need to be replaced, we just don't know how much, so we just asked for a price per square foot because we couldn't tell him he needs to replace, no one's going to know until you take the shingles off."
The bid included removing and replacing all shingles, roof repair, re-bricking in an area where the old siren tower was removed, ground aluminum socket and fascia, a power vent for better ventilation and uninterrupted gutters.
Armstrong County Planning and Development officials received 3 bids for the job on the second round of bidding. Faul Construction from Warren County, Sheffield in Northeast Pennsylvania had the lowest bid and was awarded the job. Faul Construction bid $8,000 less than the second lowest bid.