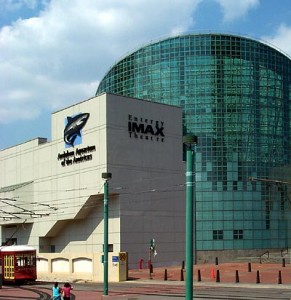 FEMA recently approved $2M to replace the old roof of the Aquarium of the Americas in New Orleans. The roof was originally repaired in 2006 after Hurricane Katrina damaged the building.
The aquarium gets significant water leaking into the building since the storm. A thermal scan of the roof shows damage that has gotten worse. In the last 5 years the patchwork repairs on the roof has cost about $300,000 including replacing carpets that were water damaged. Aquarium employees have been placing trash cans around the building to catch the dripping water.
$961,000 of the grant for Removal of Old Roof and Hazard
Mitigation
Once the original roofing materials are removed, the roof will be strengthened to help eliminate similar damages. The new roof will be replaced with a modified butimen roofing system.
The Audubon Aquarium of the Americas is one of the largest museums of its kind in America. Home to 15,000 sea and fish life, rare and endangered species, underwater tunnels, and a rainforest. Many of the fish died after a generator failure from Hurricane Katrina, other species were saved and brought back when the aquarium reopened in 2006.