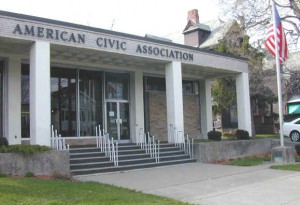 The American Civic Association building will get a new roof after several community initiatives raise money for the project. A vital part of community life and citizenship, the ACA provides important community services such as assisting immigrants with citizenship and learning English.  The organization has struggled to perform services for locals under an aging building.
Spring Brings New Life
In just a few short weeks, roofers will break ground on improving the American Civic Association building. The improvement project comes as part of a community outreach mission to bring new life to Binghamton, NY.  One year after a tragic shooting that devastated ACA employees, locals had the idea to raise money to replace the roof as a way to symbolize moving on from hard times.
The staff of the American Civic Association pooled their money for an initial donation of $1,000, which was topped by a $15,000 donation just hours later. The United Way of Broome county raised $6,000 and a local roofing company, Binghamton Slag Roofing, contributed $1,000 to the cause. Everyone from local residents, community business leaders, organization employees and many others have come together for the rebuilding of this cornerstone organization.