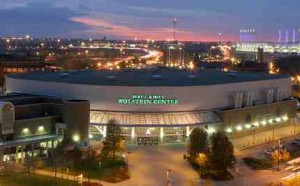 Officials for the Ohio Cleveland State University are hoping removing the gravel ballast and putting 2,470 solar panels on the roof will deter the gulls from nesting on the Wolstein Center roof. Thousands of gulls have been nesting in the pea gravel on the roof since the building opened in 1991. It is estimated up to 700 eggs are laid up there each spring.
Dovetail Solar and Wind will pay for the $600,000 in roof restoration and cover approximately 70% of the roof with solar panels. The gravel will be removed and replaced with a smooth white roof.
Saving $10,000 in Energy Costs per Year
The solar panels will be flush to most of the roof and will provide enough electricity to power about 61 homes. Cleveland State University will purchase power from Dovetail and the university is expected to save around $10,000 a year in electricity costs.
Partnering with OneEnergy Renewables, Dovetail plans to use tax credits and initiatives to pay for the new roof and solar project. Dovetail will also be giving an internship in its Northeast Ohio office and giving away two $1,000 scholarships in renewable energy.