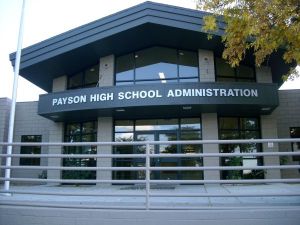 The Payson, Arizona High School Gymnasium has needed a new roof for quite some time. The renovations were scheduled to be completed by the end of summer, but work on the building may continue into the new school year.
New Semester, New Roof
The Payson High School Gymnasium started leaking water last year when roof damage was discovered by staff. Having noticed a deepening dip in the exiting roof structure, district officials ordered for the roof repair to be done over the summer months when the building would not be in use. However, the gym building  has undergone years of renovations and additions to accommodate for a growing school population. It is these prior projects that are being blamed for delaying the completion of the roof project.
The roof contractor assigned to the project began work promptly, but has continued to run into problems along the way. The roof had a major design flaw that warranted the replacement of the 93-foot supporting beams, as well as problems with support walls and clogged roof vents. Workers are continuing to work steadily to have the project completed on time and within budget, but it is likely that the school bell may ring before work has finished.