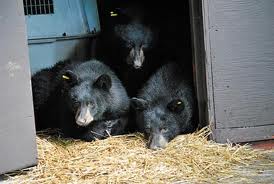 Real Charrois, general manager of Mainroad Infrastructure in BC walked into Langley Critter Care animal rescue and asked if there was any work that needed to be done. Gail Martin, the founder of the rescue center, was thrilled with the offer since it would take them a long time to save the money for the needed repairs.
As they walked around the center, Martin pointed out many possible projects that needed repairs, thinking Charrois would take on maybe one project; she was delighted when he said his company could do them all.
New Roof
A roofing crew came out to strip the shingles from the triage center and is getting ready to put up a new roof. The repairs also include a new roof over the intern deck, and a rat proof food shed.
Other repairs were a fawn enclosure and to lay donated cement slabs in the new skunk nursery.
Gail Martin was pleasantly surprised to see a crew come out to reroof the triage center; she was expecting a patch job on the aging roof.
Martin said "we are so thankful" for all the work Mainroad has done for the animal rescue center.
Fund Raiser
The Critter Care Wildlife Society is currently running its annual fund raiser Christmas Shopping Spree with t-shirts, trivets, calendars and clothing with pictures of the animals. You can donate or learn more by contacting them at www.crittercarewildlife.org or at Critter Care Wildlife Society 481-216-Street, Langley, BC V2Z 1R6.