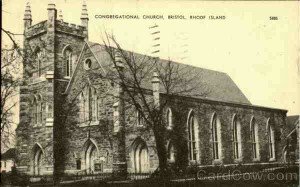 In Bristol Rhode Island, the First Congregational Church is getting a new slate and rubber roof and a new roof on the bell tower. The church will also be getting critical structure repair, primarily working from the new larger basement.
Built in 1856, the First Congregational Church on 281 High Street has a major issue with built up moisture from the basement. The wooden frame supporting the floor and interior walls is rotting and slowly sinking.
Replacing the Roof
The rubber was replaced on the flat roof areas. Approximately 150 slate pieces were replaced on the roof, repairing the rest with copper inserts. Throughout the years the slate roof has received tar patches and pieces of bad slate. The pieces have degraded and chipped, sliding down and damaging the rubber on the flat roof.
Deciding to go with copper instead of replacing the tin on the bell tower roof, Heritage Restorations President Robert J. Cagnetta said the copper would last at least 60 years "it takes a lot for us to get workers up there and tens of thousands of dollars to put scaffolding up" he said.
Expanding the Basement
The first part of the renovation was excavating the clay like soil to open up the basement to a 6 foot depth instead of the previous crawl space area. The workers could then get in and shore up the walls, install new drains, plumbing and electrical and then replace the sill plate and floor joists to stabilize the frame.
During the week construction runners are laid down so workers can do interior repairs, on Friday evening it is all taken up for weekend services.