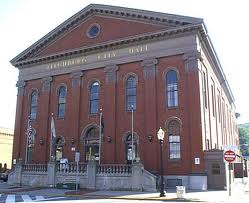 Built in 1852, the Fitchburg Massachusetts City Hall is in desperate need of roof repair. The trusses are compromised and the building is on the verge of falling down. According to two recent inspections from engineering firms, the roof needs to be fixed by winter.
Built in the form of a Roman Temple it served as the city of Fitchburg's first town hall. At the time it was considered an architectural wonder.
As well as needing updating throughout the historic building, the wooden truss in front of the building that holds up the roof is failing. In the 1990's the truss was reinforced, engineers said it should have been jacked up another 6 inches.
Tear down or Refurbish the Historical Building
Officials are considering demolishing the building and moving to temporary offices while a new city hall is to be built. While others want to preserve the historical building at all costs.
Mayor Lisa A. Wong said "I would definitely personally hate to see the building gone, but at the same time, this building is potentially too far gone both historically and practically for us to continue operating here."
Samuel R. Blair, chairman of the Historical Commission said "It absolutely has to be preserved. It is a symbol of the city and an extremely important architectural structure on upper Main Street that is the center of our city government. You cannot convince me there is no way of saving it."
Estimates for replacing the roof truss are $200,000. The discussion will continue at the next meeting Tuesday in City Hall.