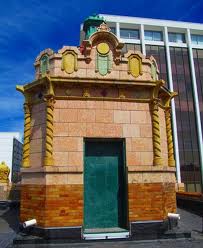 Michigan Historic Preservation Network gives special praise for the restoration work of the cupola of the Jackson, Michigan Theater.
The roof repair and cupola restoration began in August 2011, the cupola was rebuilt and restored by November. Weatherwax Foundation and other cash donations paid for the $71,3000 project.
Hilltop and Lake did the work, John Guidinger served as restoration coordinator and Robert Cole as project architect.
Used Much of Original Materials
The cupola had rotten wood, loose mortar and rusted steel. They disassembled and rebuilt the structure using as much of the original terra cotta, brick, wood, copper and Spanish roof tiles as they could. Areas that needed to be replaced, materials were replicas of the original pieces.
The leaking roof made the theaters third floor, 2 bedroom "managers apartment" uninhabitable. Now that the roof is fixed, Habitat for Humanity will begin restoration on the apartment.
The theater was built in 1930 and closed after 46 years. In 1993 the non profit Michigan Theater of Jackson took the building over and has been restoring it ever since. The theater is active with movies, concerts, stage performance and private rentals.