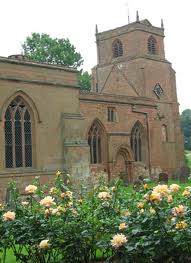 St. Mary the Virgin Church at Stoneleigh Village, Warwickshire is in desperate need of repairs to the historic building. The copper roof is in danger of splitting due to the decaying stonework and nave roof.
If the roof is no longer properly supported they fear the copper will break and water will pour into the church. Experts believe the whole structure needs to be taken apart and some of the beams need to be replaced. Along with the roof repairs, the crumbling stonework around the windows needs to be fixed to stop the water from coming in.
With ties to the village, former commonwealth Olympic Gold medalist and Coventry's lead ambassador to the 2012 Olympics, David Moorcroft is initiating a campaign to raise the money needed. The parochial church council has received 42,000 from the national churches trust and private charity, but still needs to raise 263,000.
800 Years of Services
The church building is in red sandstone and Norman in origin with a chancel arch (around the alter) dated back to 1100. Additions were made to the church in the 17th and 19th century. The copper nave roof is from the 1950's.
Fundraising efforts will begin March 30 when David Moorcroft will be giving a talk at Stoneleigh Village Hall. For more information call 853238 or go to www.stoneleighvilage.org.uk.