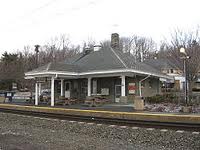 The Millington Train Station in Long Hill New Jersey will be getting a new roof to replace the current shingled one. The new roofing materials will be a synthetic slate, although the roof repair will cost more initially, the slate roof comes with a lifetime guarantee.
The station is located at the corner of Oaks Road and Division Avenue in Millington. The station has one low level side platform serving one track and does not have any bus service.
Historic Building
The original station opened in 1870 and was rebuilt in 1901. The building was listed in the National Register of Historic Places in 1984.
Committeman Guy Roshto said "Because it is a historical property, we had to work with the state. It was requested by them and the New Jersey Transit that we come up with a solution that would fit the historic character of the property."
The Long Hill Township Committee has put the project out for bid since they are responsible to make necessary repairs to the building per an agreement with New Jersey Transit. The existing roof is in very poor condition and the committee members are eager to get the repairs finished before the cost of the project go up.
The township plans to pay for the roof with rent it gets from Sterling Station Café which occupies a small space inside the building. Also revenues from parking fees for passengers on the train.