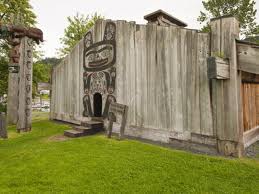 Chief Shake's Tribal House restoration project in Wrangell Alaska is about 65% complete per Project Manager Todd White. The Tribal house located in the Tongass national Forest and was completed in 1940 by the local Tlingit Tribe, Civilian Conservation Corp and the Forest Service.
The Wrangell Cooperative Association own the tribal house, they are a federally recognized tribe of the Stikine River region. Approximately 800 of the 2,000 residents of Wrangell are tribal members.
The house which is still being used for Tlingit Tribe ceremonies, will be getting new timbers, a new roof, electrical system and restoring the original totem poles on the site. They are using local carvers and laborers just like when the house was built originally.
Restoring Original Cedar Roof
The original roof was cedar planks and shakes; the new roof is being built with water shield rubber membrane between the cedar planks and shakes to keep the moisture out.
Local carvers are overseeing the project since the house is on the National Historic Register the replacement timbers must be hand adzed (an ax like tool, for dressing timbers roughly, with a curved, chisel like steel head mounted at a right angle to the wooden handle).
The roof's east half is almost done. White hopes to have the finishing work complete by the first of the year and be ready for the re-dedication in early May 2013.
For updates on the Shake Island restoration and re-dedication you can visit their blog at www.ShakesIsland.com.