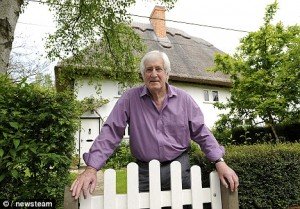 Jack Tasker, owner of a 500 year old picturesque cottage in the village of Preston St Mary, Suffolk could face prison time unless he removes his new thatch roof. Tasker is accused of carrying out unauthorized work on a listed building which is a criminal offense, in which case he can be fined or imprisoned.
The cottage was built around 1510 and believed to be the oldest barn conversion in the country. Tasker spent over £13,000 replacing the thatched roof.
Planning enforcement officers at Babergh District Council sent Tasker a letter informing him that his roof was 'unacceptable, out of character and had been put on without permission.' Senior enforcement officer Ben Elvin said the roof is 4 inches too high.
Asked to Replace the Roof
Elvin said "the council had no option to ask Mr. Tasker to replace that thatching that has been carried out with one that matches the adjoining property."
Tasker said the problem is that his next door neighbor refused to have their roofs re thatched together resulting in them both carrying out work separately in different styles. He also said his thatched roof followed the guidelines while his neighbors broke with tradition.
Peter Burrows, the council head of economy said the only way out is for Mr. Tasker to submit a retrospective application for his new roof, despite planners saying is unlikely to be approved.