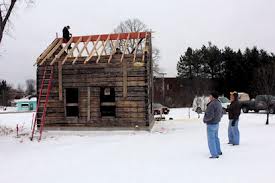 In Negaunee Michigan, a historic log cabin was discovered in 2009 when a homeowner was tearing down a small house in his back yard and found the log walls of the cabin between the drywall and exterior siding. The log cabin was made of hand-hewn red pine and cedar logs with dovetail notches and believed to be more than 100 years old.
The restoration project is a joint project between the city, Negaunee Lions Club and Negaunee Area Historical Society. The cabin was named the Collins cabin after the original owner Samuel Collins who is believed to be one of the earliest Negaunee settlers dating back to 1860s or 1870s.
Lions Club Numbered the Logs for Reconstruction
The Negaunee Lions club dismantled the cabin and rebuilt it at the trailhead for the Iron Ore Heritage Trail. Local carpenters at Noskey Construction have volunteered to put a new roof on the cabin similar to ones built during that era.
The roofers began construction on the cabin last week. Once the roof is completed, the Collins cabin will get new windows and doors. The cabin will be furnished in the style of the late 1800s.
The cabin is being restored through donations. The descendants of Samuel Collins have given large donations to the project. Hoping to have the cabin completed by next fall, visitors will be able to look through he windows and see how early settlers lived.