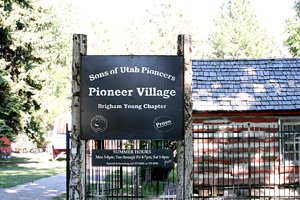 Made possible by donations and volunteers, Provo's Pioneer Village carriage house has a new roof. It took approximately 4 hours to replace the old metal roof; the tin roof was loud and did not provide enough protection from the elements.
Improvements are paid for by donations since Pioneer Village does not charge admission and is run by volunteers. Several private donors and two local companies made the new roof a reality.
Generous Donations and Volunteers
Tracy Eliason at Custom Tech Roofing of Payson was invited to bid on the large carriage house re-roofing project. After Mr. Eliason talked with Mike Baker of Interstate Roofing Supply of Provo, they agreed to donate the roof materials and services of an expert roofer to supervise the volunteers on the roofing project.
Located in North Park in Provo Utah the village has the original structures from the settlers of 1849. The village has the Turner Cabin, the Haws Cabin, a school, a granary, wood shop, blacksmith shop, an authentic general store, rare artifacts and tools and various pioneer wagons.
The Pioneer Village plans to use the carriage house to host activities. Pioneer Village is open 6 days a week and is free to the public. On Saturday afternoons a special community showcases events telling the story of Provo's pioneer settlement. Sons of Utah Pioneers Brigham Young Chapter sponsor Pioneer Village.