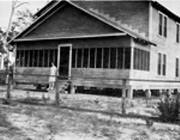 The main barn at historic Robert's Ranch Museum in Immokalee Florida will be getting a new roof. Located on Roberts Avenue, twenty historic structures on the ranch tell the story of pioneer families.
The 15 acre living history museum was originally the home to cattleman Robert Roberts and his family. The museum provides visitor's with the opportunity to experience daily working life on a pioneer homestead and citrus grove from the early 1900s.
Roof Finished in a Month
Collier County Roofing will be replacing the metal roof later this month and should be finished by the end of July. The new roof will resemble the original roof in color and shape and will be a 26 gage Galvalume 5 CV Crimp metal roof system.
A high priority is being placed on preserving the original buildings to accurately retell the story of the ranchers and pioneers that settled in the area.