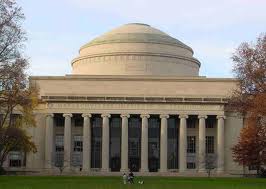 Massachusetts Institute of Technology in Cambridge is getting amethyst colored glass in the Great Dome oculus (round opening at the top of the dome).
Construction has begun removing the old 26 foot frame oculus and will replace it with a new stainless steel frame. A crane is being used to remove the heavy roof materials and to replace the new oculus. They hope to have the new rooftop oculus in place by the end of the year.
Dome Built in 1913
The Great Dome in building 10 is 8,800 square feet. Part of the original main campus, the great dome was designed to be the ceremonial main entrance. Architect and MIT graduate William Welles Bosworth designed the dome after the Pantheon in Rome.
100 years ago MIT moved to Cambridge from Boston's Back Bay. In 1942 during WWII the university blocked out the skylight at the center of the Great Dome to prevent it from being used as a beacon for enemy bombers.
The renovation project is to restore the original intent for the dome. The several hundred amethyst colored glass blocks will be made of an impact resistant material and be 2 inches thick.