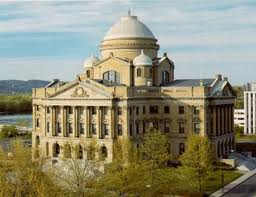 The 103 year old courthouse is getting a $5 million facelift to restore and repair the exterior. Leaks from the main dome have damaged the interior of the courthouse. They expect the majority of the exterior projects to be completed by the middle of September.
The main dome and 4 smaller domes have also received a fresh color change from white to gray. The color change is due to a new waterproofing application that began 2 weeks ago and expected to be completed by the first of August. Gray was chosen to replace the white to make the courthouse more in line with the original construction back in 1909.
Several Stage Waterproofing
First the workers removed all the paint and waterproofing covers from the terra cotta roof tiles on the main dome and 4 smaller domes. Next step in the several stage waterproofing process is to apply a reinforcement of hairy mesh fabric to help protect from cracking from thermal extremes.
D.A. Nolt Inc. of Berlin, NJ is the construction manager for the project. Next year the county will seek bids for roof repair, and then the focus will shift to interior restoration.