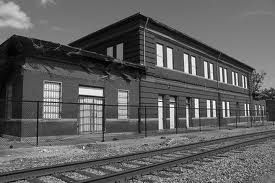 In New Bern North Carolina work could soon begin on the roof repair of the Queen Street Depot built in 1910. Bids will be accepted from mid to late July and work should begin by September.
The new roof is the starting point for the buildings restoration. New Bern Preservation Foundation, the City of New Bern and the building owner North Carolina Railroad are hoping to make the building a 'destination centerpiece' for that part of the city.
Dallas Blackstone, past president of the NBPF said "the basic project we are trying to address is to secure, replace and rebuild all the roof sections to weather-proof the building, we can't do anything inside until we do."
Salvaging 90% of Depots Wood
The project architect David Gall of Winston-Salem inspected the trim at the top of the building to evaluate the condition. Gall concluded 90% of the 1900's architecture design and colors could be maintained by salvaging and restoring the wood.
Joe Mansfield, president of the preservation group said "completing the roof will set in motion the remainder of the long term rehabilitation of the depots interior."